Yoga Pants vs. Sweatpants
Image source: Twitter
A New York Times opinion piece sparked quite a bit of controversy recently, and opened the debate of yoga pants vs. sweatpants – I've got some thoughts.
To give you some background: Honor Jones, a Senior Staff Editor for the Opinion section of the New York Times wrote a piece called, "Why Yoga Pants Are Bad for Women." She complained about yoga pants' lack of ankle coverage, so she made the decision to wear sweatpants to the gym. Long story short, she thought everyone was looking at her in confused awe, and she couldn't help but wonder: "Whatever happened to sweatpants?" (Remember her name is Jones, not Bradshaw.)
She makes some rather bold statements like: "We aren't wearing these workout clothes because they're cooler or more comfortable. We're wearing them because they're sexy," and "Wouldn't it be easier to [conquer the world] in pants that don't threaten to show every dimple and roll in every woman over 30?" In response, I'm inclined to say that although the "sexy factor" of yoga pants may hit home for some women, a lot of women could also genuinely find them more comfortable, easier to move in, and breathable. And to the women over 30, I'm sure you slay in those yoga pants! Overall, I don't think I'm willing to succumb to the fact that a large majority of women wear yoga pants to the gym because the patriarchy and the trends of consumerism tell them to do so (yes, my women's studies minor is really showing here!)
Anyway, Twitter blew up.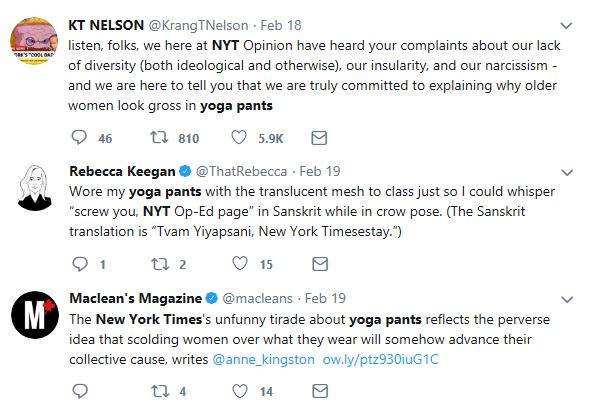 Image source: Twitter
Here's the deal. The year is 2018, and people are still not getting the memo to leave women alone. To state it plainly: women don't need/want suggestions or hints (we really hate hints) on what they can/should: wear, eat, discuss, own, use, and so many other basic verbs that describe living and existing. LEAVE US AND BRITNEY ALONE! (I know that's an outdated reference, but I couldn't resist and appreciate you letting it happen.)
In conclusion, I'd say sweatpants are still worn by many! So what if they're not exercised in as much because they're heavy and hot? Maybe they are plainly unflattering! They could even make a "comeback" thanks to Kimye and their weird Yeezy Season 6 campaign, where they made all the models basically become Kim in neutral colored sweatpants. Sorry, I digress— Either way, there's no need to talk about it.
May women of any age continue to wear yoga pants AND/OR sweatpants whenever and wherever they want—they're both harmless.
Posted by Lexie