You Are What You Eat
I'll admit, I have no shame in expressing my love for fast food. There's no better feeling than hitting up Mcdonald's and indulging in a large fry, 20-piece Mcnugget doused in honey mustard, McDouble burger and a nice choco shake. Sure, I don't always feel my best after those hundreds (even thousands) of calories settle into my body, but it just tastes SO good that I can't not have a day splurging at Micky D's.
To each their own, but I'm sure everyone has their favorite, go-to fast food joint. While mine may be MickyD's, my fellow Taco Bell lovers just might be able to take their love a little too far — now. In case you haven't heard, the wait for fried, fast food taco themed clothing is over! Yep, Taco Bell has just teamed up with Forever 21 to release their new clothing line, and only true TBell lovers can and will rep this apparel.
As of October 10th, you can head to your closest Forever21 and give your wardrobe a much-needed makeover!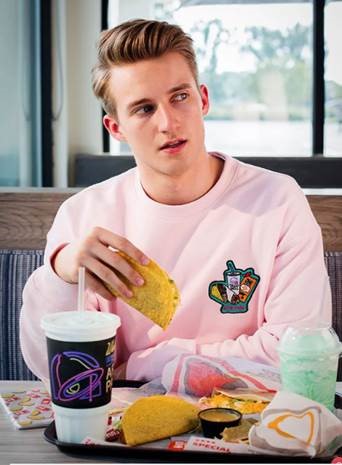 Image Sources: Food and Wine
 I mean, now people will just look silly if they're aren't wearing Taco Bell clothing as they feast on some Cheesy Gordita Crunches with Baja Blasts in hand. Or at least that's what the company is hoping!
Posted by Olivia