Your Makeup Just. Got. Personal.
Image source Pumkincat210.com
To all the lovely lady readers out there at your homes, offices or on your mobile phones, I want you to take a moment to close your eyes and envision a world without your monthly (ok, let's be honest, weekly) traumatic trips to Sephora. Instead, imagine replacing those passive aggressive altercations with fellow shoppers over the last Laura Mercier "Summer in St. Tropez" eye shadow palette with a warm, sun-dappled evening at home, a cold glass of champagne twinkling next to your laptop and Carla Bruni playing softly in the background muffled by the quiet electric hum of your makeup BEING PRINTED IN THE NEXT ROOM. Listen…can you hear it? That, ladies, is the sound of freedom.
Last week, Harvard Business School graduate Grace Choi debuted her latest invention, Mink, a 3D home printer that prints custom makeup colors at Tech Crunch Disrupt in New York and I swear I heard Sephora, CVS and department stores across the US give a collective shudder. Brace yourself beauty industry barons, this feisty little business lady is about to give you a run for your money.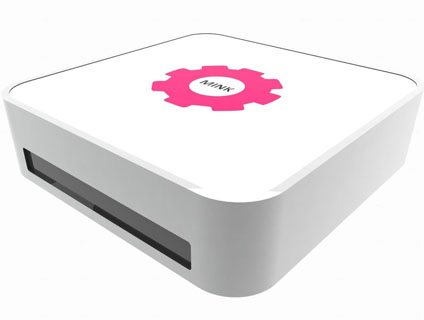 Image source Gracemink.com
In case you haven't fully registered the magnitude of this genius device, let me be perfectly clear: it can take any conceivable color from any digital image and reproduce it in wearable pigment form identical in formula to many popular beauty brands. Excuse me while I die of possibility overload. Not to mention that its emphasis on the power and specificity of pixel hex codes brings giant azure blue (#336699) tears to my eyes. So see ya anxiety attack inducing trips to Sephora, sayonara testing colors under horrendous neon lighting and adios Amazon orders and subsequent returns because the light ivory powder you waited for for days looks more like fireplace ash. Hello American dream: exactly what you want, when you want it.
Posted by Jenna