Yup, I Fell for It. 
Image Source: @coffeeandcardio Instagram
I saw a well-known fitstagrammer's post (@coffeeandcarido) starring a new green juice product, and I caved. I went online and ordered it right away and I was PUMPED for it to arrive. Sugarfina, the posh candy company that made gummy bears cool again, launched a new product in collaboration with Pressed Juicery called, "green juice" gummy bears. The bears were released in late April and they are adorably delicious.
These little green gems might be candy, but they're actually nutritious. "Made from a blend of spinach, apple, lemon, and ginger concentrate, they get their coloring from spirulina and turmeric. They're also fat free, gluten free and one serving provides you with 20 percent of your daily vitamins A and C." (Source: Delish.com)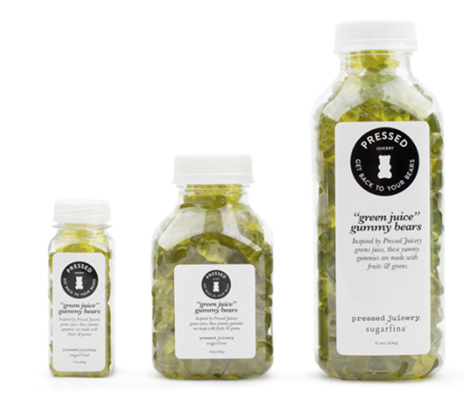 Image Source: Sugarfina
When they arrived (I ordered the medium-sized bottle) I twisted off the white cap and caught a whiff of the gummy bears. They definitely had a unique smell, sort of citrusy. I popped one in my mouth and began to chew and was pleasantly surprised that the candy tasted just like traditional gummy bears! So I had a few more and prompted my roommate to try them. She's a big green smoothie/green juice drinker so she dove right in and loved them, too! I brought the rest of the bottle to work and noshed on them as a "healthy" snack until they were gone.
You're going LOVE these. Here's the link to buy your own: https://www.sugarfina.com/shop/candy-shop/collection/green-juice-bears
You're welcome!
Posted by Allie M.