I'm not usually one to judge people on how they choose to dress and style themselves, but when things are taken way over-the-top at sporting events, I'll be first in line. If you haven't noticed or seen this hideous piece of work
For a story on foodies using technology in the restaurant industry, Mashable features Russell House Tavern chef Michael Scelfo as a pioneer.
When the Fox 25 Morning News came to film the firefighters of Engine 10 perfecting their recipe for the 1st Annual Boston Firehouse Chili Cook-Off to benefit The Greater Boston Food Bank, they didn't know that a fire at North Station
I've always been fascinated with bridges.  Not regular ones; I'm talking really cool, bogus, insane bridges.  Think the Seven Mile Bridge that connects the Florida Keys, creepy old railroad bridges that teeter sky-high above ground, and hell, even the Pell Bridge
It's true: Women dress for other women; they never dress for men. Take it from someone who's been recognized by The New York Times for her avant-garde, yet offensive-to-the-male-species sartorial choices—Leandra Medine of The Man Repeller blog. A 21-year old journalism student who lives in
I may own a tool kit (and a sweet power drill, woot woot), but that doesn't mean I'm entirely versed in the language of "fixing stuff."  While I hope to have a hubby of my own one day to handle
I think Don Draper would choke on his cigarette and spit up his Old Fashioned if he saw the ad campaigns of the new millennium. In an attempt to convince us just how hipster and edgy they actually are, American Apparel  has
It's official—the fashion world and tech world have collided! Don't believe me? Read on… WHAT: The latest Polaroid invention, the GL20 sunglasses, allows you to take pictures and videos using a camera built into the lens and then display them on an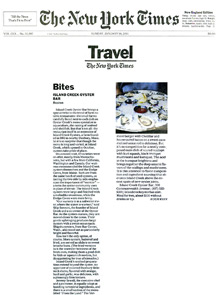 A review of Island Creek Oyster Bar is featured in the Sunday Travel section of The New York Times.