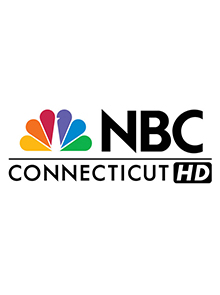 Paint Nite Master Artist Jess Behm walks NBC Connecticutanchor Kerri Lee through a painting, discussing Paint Nite and the social painting craze that has "taken the bar scene by storm."
Alright, I'll be the one to stick my neck out here and completely embarrass myself by admitting that I've already checked for a phone app to alert me immediately when the Royal Baby arrives. (Sadly, there isn't one.) I can't help
Paint Nite's launch in Baltimore is the feature article in The Baltimore Sun's arts & entertainment section, "Live!" Local artist Scott Hakanson and several event-goers were interviewed, and several photos were included in the article.
I realize I have a version of a man's name, Codi. To this day, I still cannot forgive my parents for their little blunder that has scarred me throughout life. In fourth grade, for example, our teacher decorated our desks
There's a certain nostalgia looking back on movie theater trivia – the silent, pre-show softball questions that entertained audiences before rolling the previews. Today we're subject to elaborately produced "first look" segments at basic cable TV shows and car commercials.
...is the title of a book I recently encountered by celebrated author Anita Silvey, that features a series of celebrity interviews in which the author asks each interviewee about their favorite children's book growing up. After reading a few interviews,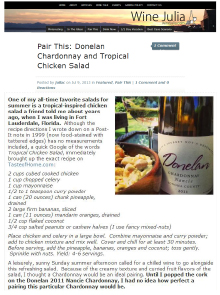 Blogger Julia Crowley, winner of the 2012 Wine Blog Award for Best New Blog, features Donelan's 2011 Nancie Chardonnay on Wine Julia with a suggested pairing recipe. She "absolutely loves" the wine, saying "their priority of prizing quality over all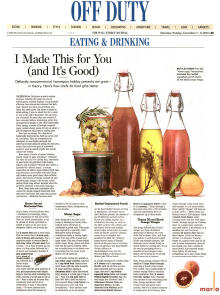 A recipe for Central Bottle Wine + Provisions' house-made Marinated Feta leads a full-page feature on do-it-yourself holiday gift ideas, among items from notable dining destinations from around the world.