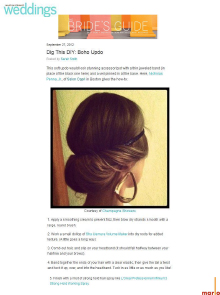 SalonCapri's Nicholas Penna, Jr. shows boho brides how to score the perfect updo for their wedding day.
Man's best friend…a dog, right? How about a stuffed dog? You know, one that looks just like your living, breathing Fido, but not. Cool or weird? I'd say a little of both. When I first read about Shelter Pups via a
For the first time in my life, at the tender age of 30, I'm living alone. After having roommates for more than 15 years (I started young in high school), the time has finally come for me to spread my
Between California's foie gras ban and New York nixing supersized sodas, it seems the reign of the nanny state is imminent. Though I can KIND OF rationalize the latter legislation amid concerns surrounding obesity and access to nutrition (a 40-ounce
The recent unveiling of the new iPhone 5 came with a lot of prophesizing, frantic pre-orders, and basically a whole lot of nerdery. Along with a thinner, longer look, the new iPhone has a redesigned adapter port, meaning all existing
I realize this admission may come across as gauche, considering my position as a publicist for some really terrific restaurants in and around Boston, but I'm going to say it nonetheless. Sometimes, I just feel like eating at The Cheesecake Factory.