If you live in Boston, love cats and are willing to forgo some basic hygiene at your local coffee shop, then you're in luck! Miaou Boston, America's first cat café, may soon become a reality. A local entrepreneur recently announced her
Sports are a huge part of the American culture. Football, Baseball, Hockey, Basketball - whatever the game, people love it. We all know that. But living in New England…well, I think it's safe to say that we take the love
Consider yourself challenged: your selfies need work. Recently, Hong Kong made a selfie splash thanks to its "no selfies at the Hong Kong Marathon rule." Apparently, this kind of thing was happening:
To commemorate its re-release of "The Little Mermaid" into theaters this fall, Disney pulled what many film purists interpreted as a total "King Trident" on the classic viewing experience (remember how he smashed Ariel's beloved treasure trove?). Namely by encouraging
What would you do if given the chance to travel anywhere in the world? That is a nice daydream, huh. What about if you had to leave right now? As in this very second? That's what Heineken asked this past summer
There's nothing quite like the visions of fall. No, I'm not talking about foliage, I'm talking: pumpkin spice latte in cup holder; pumpkin spice latte next to laptop; pumpkin spice latte on park bench; pumpkin spice latte in mitten-clad hand;
Recently, advertising companies have taken their client's branding to a new level. See: Dollar Shave Club and  The Camp Gyno. The newest ad campaign comes in the form of a viral video for Poo Pourri.  Yep, you read it right. 
Ever since I can remember, my mom has had an addiction to novelty candy. Growing up, any time Hershey would put out a new flavor kiss, I knew I could find it in the candy drawer. I think I've tried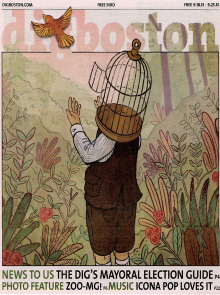 Franklin Park Zoo, of Zoo New England, is featured in a three-page photo essay, which highlights various animals and exhibits throughout the zoo.