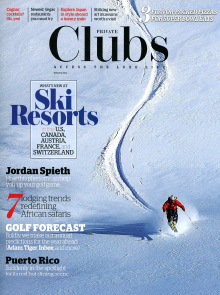 Nicole Lebedevitch, General Manager of The Hawthorne, shares her inspiration and recipe for the Ce Soir cocktail with Private Clubs Magazine in a feature on Cognac's revival.
I am a sucker for an underdog story. Always have been, always will be. I was cheering for Rocky as he drank his concoction of raw eggs (I advise against it) and jammed to Bill Conti while he flew all
In a country where you cannot drive more than five miles without being bombarded by the golden arches, child obesity is at its worst. It doesn't help that fatties like Honey Boo Boo are growing in popularity. I have nothing against
John "Uncle Jesse" Stamos has been doing ads for Dannon's Oikos Greek yogurt for some time now. The concept is simple – in a perfect world, everyone would look like John Stamos and every yogurt would taste like Dannon Oikos.
You know the saying: every time a model falls on the runway a pair of Jimmy Choos shudder and die. Ok, so maybe that's not how you remember the childhood saying but bear with me. It happens at least once
The only true cure to a long, grueling day of work is to plop down on the couch and crack open an icy cold beer – though personally, I always need a snack to go with it (because there's no