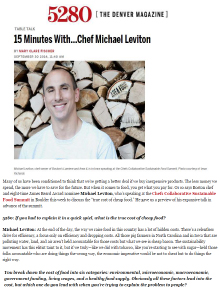 In a one-on-one interview, Michael Leviton sheds light on the true cost of cheap food and discusses the importance of raising awareness around the sustainability movement.
Like everyone else in this world, I'm a fan of Apple products. I'm not one to wait in line overnight for eight hours EVER, but I'll admit that I was eager to take a look at the new iPhone 6
I'm starting to think Emma Watson can do no wrong. Not only was she the strong and charming Hermione in the eight Harry Potter movies, a humble student at both Brown and Oxford, and a style icon, but she is
Here's one to make you feel old: it's been twenty years since the absolute best show to ever be on television premiered (Friends – duh). Granted, I was only five at the time, but when I finally caught onto its
I'm going to let you in on a little secret: I don't know much about beer. Besides your everyday knowledge of vocabulary and overall taste, I am a newb. When going to a bar and faced with the ultimate task
Studies have proven it; everybody knows it: Americans just don't know how to stop working. We work long hours, neglect our vacation days and then, just for kicks, we work on the weekends too. While the workloads of other countries
So, apparently, Bey's been drinkin' (watermelon). The beauty and body icon has sent the collective interwebz atwitter with rumors that she's been Photoshopping a considerable amount of thigh gap into her Instagram and Tumblr pics. For those not in the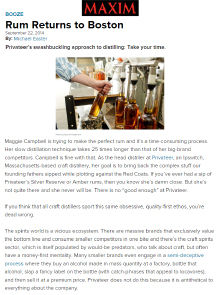 In an article highlighting the return of rum to Boston, Privateer Rum is showcased as a craft distillery that goes against the grain to produce a high-quality spirit unlike any competitor on the market. Privateer Rum's "obsessive [and] quality-first ethos"
There's a saying: when life gives you sausage and eggs, you order…Dom Pérignon. You know that one? Of course not, it's totally nuts. But apparently a new diner in Manhattan is trying to get the phrase to catch on.