If you were to skim through my Instagram feed, you'd quickly notice I follow a whole lotta pups, and a whole lotta fashion. What really gets me to go berserk with the double taps? When the two collide.
Halloween - the only day of the year where it is OK to accept candy from strangers. Think about it guys, Halloween might just be the weirdest holiday that Americans thunk up, amiright?! Most holidays give us an excuse to drink copious
Remember that time last year when Snapchat turned down Facebook mogul Mark Zuckerburg's all-cash acquisition offer of $3 billion? We all (or was that just me?) thought 23 year old CEO Evan Spiegel had let his ego get the best
If you know me, you know that I am obsessed with Halloween. I spend hours brainstorming multiple costumes to wear to each planned festivity and I pride myself in never having bought a costume. That's right, you heard it! Never.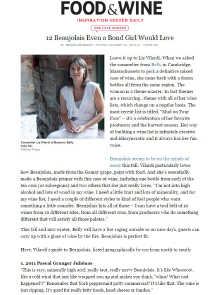 Belly wine bar Owner/Wine Director Liz Vilardi's picks the ultimate case of wine in FoodandWine.com's new series, "One Case Wonder."
If there's one thing I've learned from my travels around the world, it's that food is the international language. We all need it and – whether we like to admit it or not – we all love it. A lot.
It seems like nowadays everyone and their mother is doing a juice cleanse. You know, that torturous thing people do to themselves in which they forego food for juice for a few days in the name of "cleansing" and "detoxing."