In the midst of every tabloid's early 2013 recap of the past year's worst celeb bodies, bare faces and breakups, I'd like to take this opportunity to acknowledge a break-out star who totally knocked my socks off in the last
cooksimple's delicious White Bean Chili is recommended as one of REAL SIMPLE's "6 Shortcuts for Fast & Delicious Dinners" in their online Daily Finds roundup.
Unless you live under a rock, by now you've heard that Kim Kardashian and rapper Kanye West are expecting a child together. Sigh. So, what should we do to pass the time until the baby comes?! Fear not. I've rounded-up
Gender reveal parties are so 2012. The new trend in baby parties lets your closest friends and family (or whomever you choose, really) get a bit more intimately involved in your pregnancy. I'm talking ultrasound parties. Yep, your friends and family
On January 1, you can always count on a few things: a killer hangover, good-natured but impossible declarations of healthy living, and a slew of food and cocktail trend predictions for the upcoming year. Some of the 2013 predictions I've read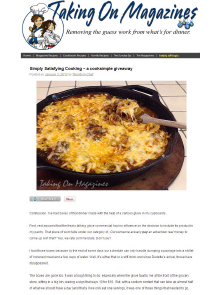 cooksimple is highlighted in a great review on the blogTaking on Magazines, named one of Babble's "Top 100 Mom Food Bloggers" in 2012.