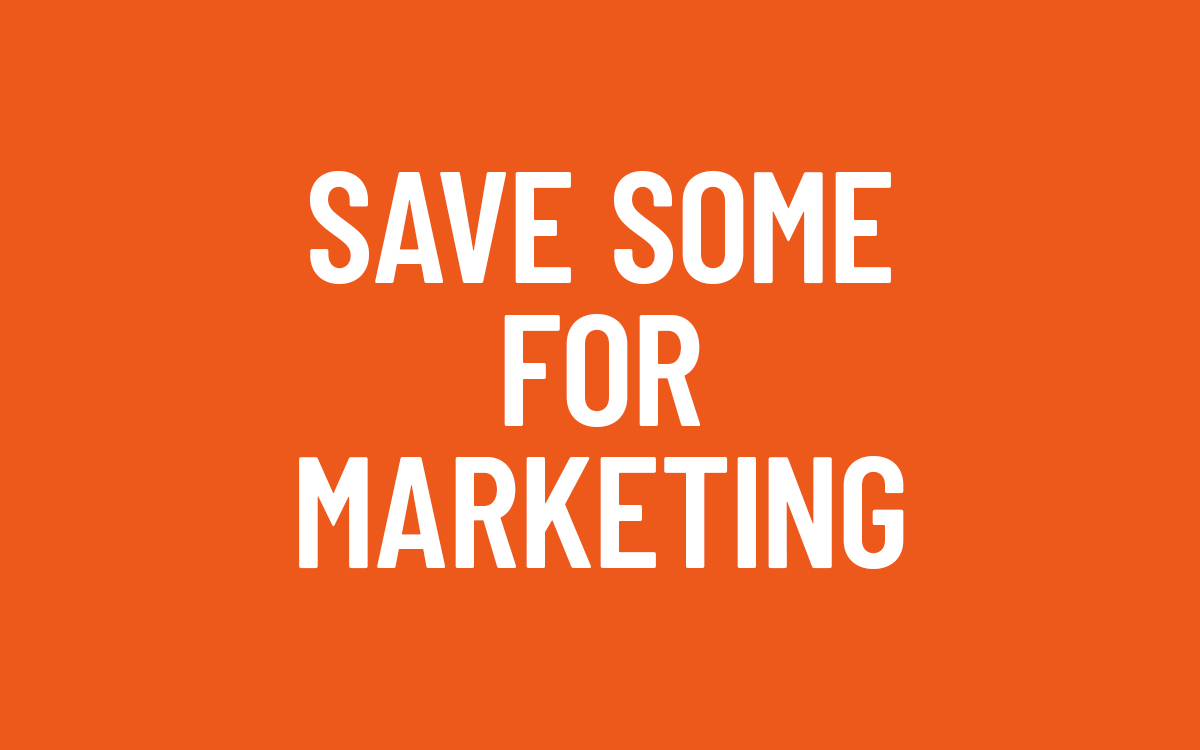 Save Some for Marketing
One of my biggest professional frustrations is getting calls from prospective clients who are in dire need of marketing, have spent carte blanche on their "product," but failed to allocate the proper budget to support their marketing needs.
Case in point: Last year I had a call from what I thought — from the name and website — was a university-owned hotel located about 30 minutes outside of a major east coast metropolis. It looked nice, but was very heavily branded around the university, down to the throw pillows on the beds. The GM told me that, a year earlier, they had completed a major renovation and that, ever since, occupancy had been at less than 50% pretty much every night save for graduation. He also informed me that the hotel, despite its name, was about a mile from campus and across the street from a train that is a short 30 minutes to downtown. Thinking to myself, there's a lot here to work with, I inquired about his budget. After a little hemming and hawing, it turned out that what he had to spend on marketing for his entire fiscal year was $20K. After telling him there was no way that budget was going to successfully meet his marketing needs, I asked if he would share the budget that was spent on the renovations. He hadn't been there at the time, he said, but he believed it was about $26M.
Twenty-six million dollars spent on a renovation. Twenty thousand dollars allocated towards marketing. Mind. Blown. At less than 50% occupancy for over a year, talk about dying with your secret!
We had hit it off by this point, and I tongue-in-cheek suggested that had whoever been in charge at the time chosen a slightly less expensive carpet, they could have spent $25M on the reno and left $1M for marketing which would have been more than sufficient! He agreed, and said he'd go back to the powers that be to make the case for more funds.
Unfortunately, this isn't a new storyline to me. Whether this hotel, or a former restaurant client back in 2008 who gave his celebrated chef a blank check to build out the kitchen in a neighborhood that was, at the time, way more down and out than up and coming. The restaurateur spoke with such pride as he told me that his chef had selected an $80K gelato machine; I remember thinking to myself "does he know how many bowls of $8 ice cream he has to sell to see the ROI on that?!" And then, of course, my mind traveled to the measly budget he had allocated for PR & marketing. Needless to say, that restaurant didn't make it.
These stories, and so many more like them, lead me to ask the question: Why is marketing so undervalued? I don't know the answer. All I know is these days, if clients don't have the budgets they need to achieve the goals they seek, we choose to take a pass. Just as it's their prerogative to budget inadequately, it's our prerogative to not participate in their folly!