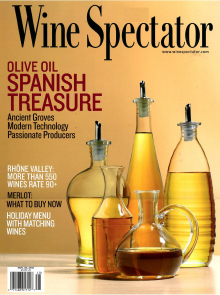 A recipe for Michael Leviton's Leg of Lamb Anchoiade with White Bean Ragout is featured in the magazine's "A Perfect Match" column.
There are a few things that mark the beginning of the holiday season: the (some would say premature) store displays and decorations that start to saturate the aisles of department and grocery stores just after Halloween, the sudden appearance of indulgent baked
Wishing you and yours a happy and healthy Thanksgiving from your friends at marlo marketing/communications!
Unless you have been hiding under a rock these past couple of months, or are just averse to all things pop culture fabulous, you are bound to recognize both the name and face of Kerry Washington.
The caption above says it all about Lincoln's famous night out at the theatre. And wouldn't Instagram have made Paul Revere's life SO much easier? Forget the midnight ride, he could just upload and tag a photo of those pesky invading
Here's another fun fact - I've touched Martha Stewart before. It's true and is one of the many reasons that working in hospitality PR rocks. I had booked a client on her show right before it got canceled (sorry, Martha)
In a recent attempt to channel my inner Million Dollar Baby, I decided to check out my local boxing ring for a week of introductory lessons (cue epic training jams). While the club boasts a pretty enticing tagline ("Our gym
Let me start off by affirming that I love Boston, really, I do. As a native southerner born, raised and educated  in the Old Dominion of Virginia, I was surprised and delighted with how quickly I developed a deep and
I was lucky enough to have two really great parents. But there are always certain parents who make even the best of parents look bad, just like an NFL player puts even my flag football athleticism to shame. Of these