I'm going to be completely honest with all of you—I don't give a sh!t about football. While some girls grew up as tomboys loving to watch games and play flag football in gym, young Emily would rather sit on the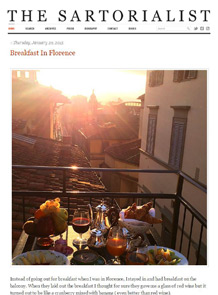 Florence, Italy's Grand Amore Hotel and Spa hosted New York-based fashion blogger The Sartorialist during his visit to Pitti Uomo, the world's largest menswear fashion and accessories tradeshow.
I was a bit of a destructive child. Aptly nicknamed "Tornado Tracy," I wreaked havoc through the house on a daily basis. Eggs? Cracked on the floor. Books? Thrown off the bookshelves. My sisters' Barbie dolls? Oh, well those all
If your childhood was anything like mine, you spent the glorious years of your youth discovering all of the unique and downright useless talents that you possess. Or, you watched jealously as your friends showed off all of theirs. There
"Dating anyone new?" "How's the love life lookin' these days?" "You're next up to have a baby… when is that going to be exactly?" Sound familiar? Then you, my friend, must be a single person in your late 20's-early 30's*. We've all heard
Panasonic recently revealed their newest high tech product and it's already making some serious waves in the beauty industry. Dubbed the "Mirror of the Future," the contraption is not the aluminum-coated glass we're accustomed to but a device that mimics
Paint Nite is featured on Ottawa magazine's website in an review of a local Paint Nite event, with multiple positive comments from attendees.